Introduction
For the past couple of years as a tour guide, I have been trying to find a way to capture the amazing moments of my trip on camera, be it a photograph or video. No matter what I did, I couldn't get a good shot. Either the photograph wasn't clear, or I couldn't get a moment to stop and take the picture, or my phone went dead.
I tried putting reminders on my phone, asking members of tour groups to send me pictures, and having my friends and family call me to remind me. None of it seemed to worked. When I did get a moment to film a video, it was shaky and uneven.
One day, my husband and I went online and started looking for a solution. We found the Smooth Q Gimbal, read some reviews, and decided to give it a try.
The gimbal is a 3-axis stabilizer that holds the smartphone/camera in order to film videos and photographs. It came a few weeks ago, and we've spent those few weeks trying it out.
Features
The gimbal is made plastic with a remote area on the handle to control the filming and different modes.
There are four different modes for filming: follow, lock, full, and selfie.
The remote area of the handle has a button to change those modes.
There is also a record button for those who have the application on their phones.
There is a zoom in and out button as well.
Lastly there is a button to move the phone side to side, or up and down.
The gimbal is designed to last 9 to 11 hours before needing to charge it.
It comes with a cable to charge the gimbal itself.
There is also an outlet in the gimbal to charge your smartphone.

Who It's For
The gimbal is directed toward people who are looking to do some basic filming to build up a youtube channel, a business, tour guiding, or a similar plan. If you are looking to go into professional photography and film, you may want something a little physically tougher and little bit more professional. But if you are looking to step up your social media, this will work for you.
Pricing & Purchase
I got my Gimbal from Ebay (costed $139) but you can be bought on Amazon even cheaper.
Pros
First, the Smooth Q Gimbal is significantly cheaper than other stabilizers. If you are on a budget, this is the product for you. At $139, the product is the cheaper item.
In addition it means that the physical weight is lighter.
It is also simple and fun to use. Once you sit down to understand how it works, it is easy to use, and you'll be set to use the gimbal. And when you understand how to use it, it's a lot of fun to use and create cool videos.
While some people don't like that the gimbal is made from plastic, I actually like it a lot. I think it gives the gimbal a nice, slick look. I think it is designed to look smooth and cool.
Cons
There are a few cons that come with gimbal as well.
First, while the plastic makes it look slick and smooth it does make more likely it could break.
If you have an iPhone 5 or less it is incompatible with the Smooth Q Gimbal app. While it makes the app irrelevant, you can still use the gimbal as a stabilizer to film movies.
The part of the gimbal that holds the phone is a bit hard to open in order put the phone in. It sometimes feels like you need three hands in order to open the gauge and put the phone in. However, I personally prefer that it is hard to put the phone in the gimbal and know that it is held tightly than worrying the phone might fall out.
Lastly, it does take some time to remember which mode is which. There is no label on the gimbal informing you of the modes, so it can get confusing.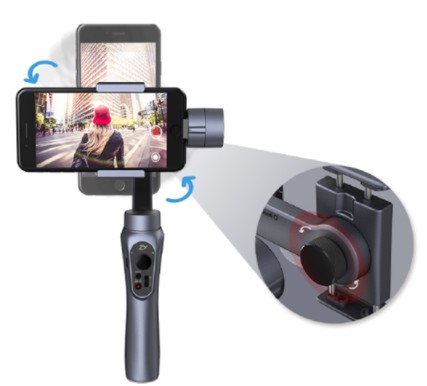 Alternative Products
There are other options for general stabilizers available here and here. Many of these other products are more expensive, but also can sometimes provide more professional filming.
My Final Opinion
Overall, I have very much enjoyed this product. It is a cheaper option to the gimbel industry, and it's easy to use, despite it taking time to figure it out. It's a fun product that helps film smooth videos. The videos come out smooth and of higher quality than if you didn't use it.
I've had a lot fun using it to make the movies that I am planning to use for my business. It has allowed me to film smoothly , and gave a more professional look to the movie, instead of a shaky, homemade feel.
It will take me some more time to figure out more nuances that come with the gimbel. But I'm good with that in exchange for the films that I've made.
I would recommend this product to anyone who wants to make videos for social media, their business, and more.
Get one from Amazon
Get one from Ebay
Comments
comments